Quality Guest Post's - Percussive Content Writing Methodology
At QGP, we serve high-quality, grammatically correct, and SEO-rich content targeting services to various business verticals. Our copywriting team will understand your business niche, and after full market due diligence, they will select the high-performing keywords to write a lead magnet content for you. Be it a valuable article or lead-generating blog; we can help you create highly percussive content within a given timeframe. 
Creative Article and Blog Writing Services
Our team of onboard writers are well versed in multiple niches and can easily write creative articles on anything that you may assign them! Try out our services to see it for yourself!
With our quality content writing services, you are guaranteed to get content that is very engaging! We help your brand enhance consumer retention through our blogs!
With our years of experience in the content writing field, we can easily recommend the best SEO optimized topics that would get you the maximum amount of views!
Pristine, engaging and grammatically perfect blogs are available to you through our quality blog writing services! Our team of onboard specialists ensure that you get nothing but the very best!
0
%
Unlimited Free Revisions
In our unparalleled commitment towards establishing unwavering quality, we aim to go above and beyond our client's expectations. To ensure your complete satisfaction, we offer free unlimited revisions!
Content marketing plays a crucial role in reaching out to masses
Reach out to your target audience by availing our quality blog content writing services! Through our strategically written targeted content, you can get the most out of your content marketing strategies! Attract new visitors and maximize customer retention through our blogs!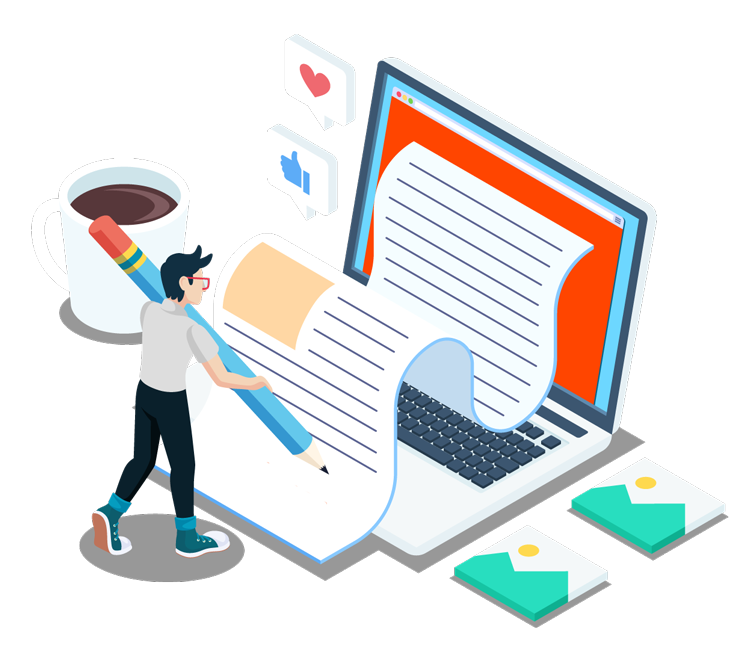 Our Simple Content Writing Process
Step 1
Purchase & Order Info
Share your content requirements and business details with our experienced team. 
Step 2
Content Research and Topics Creation
Our SEO team will search the relevant keywords, and writers will compose engaging content around those keywords after getting topics approval from you.
Step 3
Topic Approval
Before sending an article for your approval, we check its Grammarly, Copyscape, and readability scores. Only when our team is satisfied with the content quality, they share the draft with you.
Step 4
Content Creation and Optimization
You can mark changes in the article and send them back for revisions as many times as you want. We won't rest unless you are fully satisfied with our services. 
Step 5
Content Approval
Once you are fully satisfied with the content, only then we'll move it further for publishing. 
Step 6
Reporting & Publishing
After your approval, we'll proceed towards publishing the content onto your blog or wherever you would like us to post it.
---
Our Content Writing Prices
Mini

$50
Sing Up
3 URLs / 2 Keywords per URL
Tier 1:
3 Top Level Blogs
1 Articles Per Blog
6 In-Content Links
Tier 2:
10+ Web 2.0 Properties
20+ Social Bookmarks
Maxi

$200
Sing Up
4 URLs / 2 Keywords per URL
Tier 1:
4 Top Level Blogs
2 Articles Per Blog
8 In-Content Links
Tier 2:
50+ Web 2.0 Properties
100+ Social Bookmarks
Premium

$250
Sing Up
4 URLs / 4 Keywords per URL
Tier 1:
8 Top Level Blogs
4 Articles Per Blog
16 In-Content Links
Tier 2:
75+ Web 2.0 Properties
150+ Social Bookmarks